Colouring, Dandruff, Dry / Damaged, Hair Loss, Oily Scalp, Scalp & Hair Health optimisation
Regrow Herbal Hair Colouring Scalp Treatment Powder 100g FREE Hair Dye Set – DIY Hair Color Dye
This is a natural hair darkening remedy for people who wish to turn unsightly white hair into a natural-looking black. Made from 100% herbal ingredients, it provides therapeutic treatment to the scalp, supplies essential nutrients to the hair, and brings the hair back to optimal health.
Available Coupon
5% For Repeat Customers
Min. spend $60
Valid Till:
29.04.2024
15% Off For First Time Buyer
Min. spend $60
Valid Till:
29.04.2024
Description
Last Updated on: 30th July 2023, 10:31 pm
Regrow Herbal Hair Colouring & Scalp Treatment Powder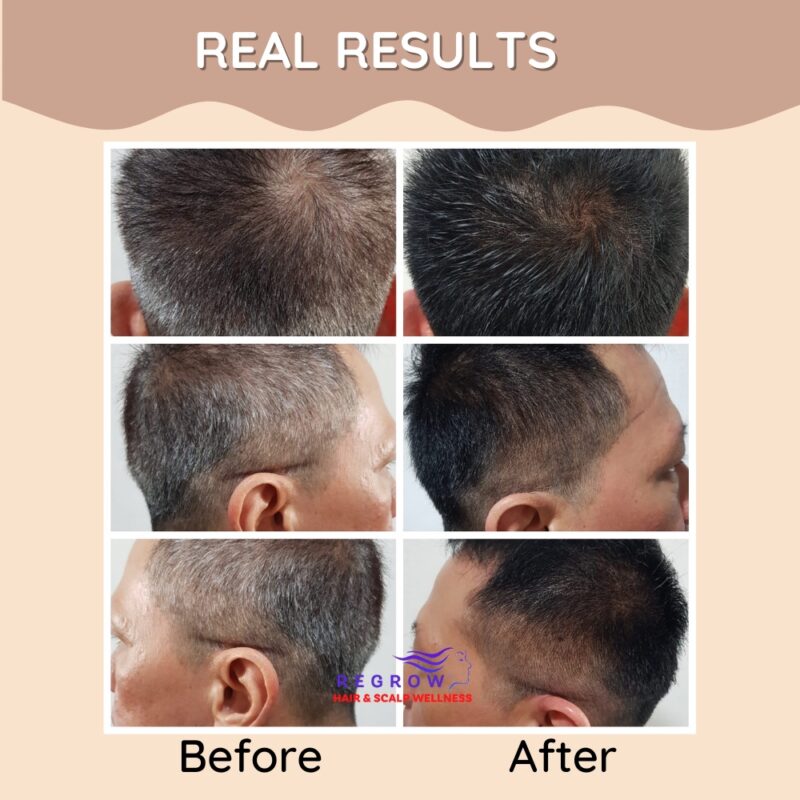 He Shou Wu darkens hair, prevents hair loss and strengthens the hair shaft. Panax Ginseng nourishes follicles and stimulates regrowth of strong healthy hair. Angelica Sinensis (Dang Gui) enriches the blood and promotes blood circulation to the scalp. This product does not contain harsh chemicals, it allows you to darken white hair safely without damaging your hair & scalp and giving you a soft & natural youthful look.
Full Ingredients
Polygonum Multiflorum (He Shou Wu)
Panax Ginseng
Angelica Sinensis (Dang Gui)
Lawsonia Inermis (Henna Leaves)
Amla Fruit
Shikakai Plant
Hibiscus Floral Leaves
Fenugreek Seeds
Coffee Beans & Tea Leaves
Benefits
100% 2in1 Herbal Hair Colouring & Treatment
Long lasting Black colour
Protects scalp & hair
Stops hair loss
Suitable for men & women
Made in Singapore by Certified Hair Loss Specialist
**FREE GIFT is while stocks last only
How to Use
Place towel on shoulder & secure with clip
Wear gloves on both hand
Pour 1 packet (100gm) powder into bowl
Pour about 200ml of water into powder
Stir mixture until it become paste
Apply paste on scalp and hair until whole head is totally covered
Gently massage scalp for 2 minutes
Comb hair neatly
Put on shower cap and fasten with headband
Wait for 1 hour
Remove cap and headband & wash thoroughly with shampoo
*Use Regrow Anti Hair Loss Herbal Shampoo (optional)*
*Apply Regrow Ginger Scalp Cleansing Tonic (optional)*
*Apply Regrow Hair Tonic for optimal hair health (optional)*
*Allergic Test – you may be allergic to certain herbal ingredients, do an allergy test before using this product*
Available Coupon
5% For Repeat Customers
Min. spend $60
Valid Till:
29.04.2024
15% Off For First Time Buyer
Min. spend $60
Valid Till:
29.04.2024